Dental Implants Require Cleaning and Maintenance Just Like Natural Teeth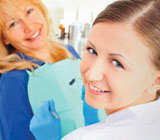 There's no doubt dental implants are an effective choice for restoring both the form and function of missing teeth. But although they aren't susceptible to tooth decay as with natural teeth, the bone and gum tissues that surround them are. Implants, therefore, require the same cleaning and maintenance as natural teeth.
A dental implant is actually a root replacement, a titanium post surgically embedded in the jawbone. Because titanium is osteophilic ("bone-loving"), bone will naturally grow around it, making the implant more secure over time. Atop the implant is an abutment to which an artificial crown, the visible portion of the implant, is attached. The abutment is surrounded and supported by connective fibers within the gum tissue that hold the tissue against the implant surface.
This attachment differs significantly from natural teeth's attachment to the jawbone, which attach to a tooth's root through the periodontal ligament. The tiny fibers of the ligament hold teeth in place; its elasticity allows for tiny adjustments in a tooth's position in response to changes in other teeth and bone. The ligament is also rich in blood supply that enriches the area with nutrients and provides resources to fight and resist infection.
An implant doesn't have this same degree of defense against infection. Without proper hygiene, a layer of bacterial plaque known as biofilm can develop on the crown surface of both natural teeth and restorations. In addition, an infectious condition specific to implants known as peri-implantitis can set in the gum tissues surrounding the implant. This can lead to bone loss (sometimes very rapid) and eventual loss of the implant.
Although your daily hygiene won't require special toothbrushes or other devices for implant cleaning, your professional cleanings will. The metal instruments (known as curettes) used to clean natural teeth could damage implant surfaces. The hygienist will use devices made of plastic or resin rather than metal, and nylon or plastic sheaths or tips on ultrasonic equipment that are specially designed for implant cleaning.
While maintaining dental implants requires diligence on both your part and ours, implants remain an effective, long-term choice for dental restoration. In fact, some studies indicate upwards of 95% success rate. Proper hygiene will greatly increase your chances for many years of service from your implants.
If you would like more information on properly maintaining your dental implants, please contact us or schedule an appointment for a consultation. You can also learn more about this topic by reading the Dear Doctor magazine article "Dental Implant Maintenance."