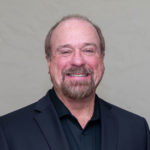 John Shoemaker III, DDS, DICOI
Dr. John Shoemaker III was born and raised in Dallas Texas. He graduated from Southwestern Union College in Keene, Texas and received his Doctor of Dental Surgery from Loma Linda University Dental School in 1981. He is a member of the American Dental Association and Texas Dental Association and is board certified. He is a fellow of the Misch International Implant Institute. As of September 2019, he is 1 of 44 dentists in Texas and 1 of 1,299 World Wide dentists with Diplomate status with the International Congress of Oral Implantologists.
Dr Shoemaker has been performing implant dentistry in his practice for more than 27 years. He is one of the first dentists to go through the advanced implant dentistry training at the Misch International Implant Institute and has been personally trained by Dr. Carl Misch, the founder of that institute. Dr. Misch is known as a world-renown implantologist, clinician, author and teacher in implants for more than 35 years. Dr. Shoemaker's extended experience in the academic aspects of implant dentistry as well as the hands on experience he receives every time he trains with Misch International Implant Institute, has allowed Dr. Shoemaker to not only keep up to date in the ever changing field of implant surgery, but has allowed him to bring many of these new developments to Texoma for the exclusive treatment of his dental patients.
In September 2018, Dr Shoemaker had the honor and privilege to present at the International World Congress of Oral Implantologists in Las Vegas. He has been asked to help write the new American Board of Oral Implantology exam for upcoming Implantologists. Dr. Shoemaker continues to travel in and out of the state to perform advanced implant surgery and training every year.
For 18 years, he worked closely with the Women's Crisis Center of Sherman in restoring not only the smiles of abused women but their lives as well. Dr. Shoemaker, in 1998, was nationally featured and recognized by Time Magazine and talk show host, Maureen O'Boyle. Ron Clark, Texas House of Representative District 62 also sent a Resolution adopted by the House of Representatives acknowledging his service to the community. The Sherman Democrat and Dallas Morning News featured articles about his years of service to the women in the Sherman community.
Dr Shoemaker enjoys playing golf, weight training, snowboarding, snorkeling, scuba diving, surfing, bird watching, fishing, playing the guitar and singing. He enjoys the Sabbath and taking time to keep his connection with God strong.
In addition, the following list details Dr. Shoemaker's credentials:
Southwestern Union College – 1977
Loma Linda University Dental School – 1981
American Dental Association Member
Texas Dental Association Member
Misch International Implant Institute Fellow
International Congress of Oral Implantologists Fellow
International Congress of Oral Implantologists Diplomate
Visit us on Facebook https://www.facebook.com/jshoemakerdds