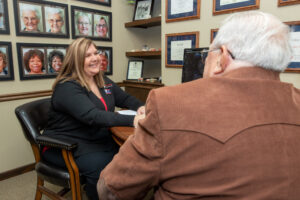 Cosmetic Dentistry Sherman TX
Would you like to change your smile? Are you dissatisfied with a chipped tooth, or tired of unsightly gaps? Don't hide your smile any longer. Come into John Shoemaker, DDS, DICOI, to get one of our cosmetic dentistry procedures done, or even a whole smile makeover! Below is a listing of the cosmetic dentistry options we provide. Read about how we can beautify your smile with these procedures, and then schedule a consultation today.
Cosmetic Bonding
Cosmetic bonding, also known as dental bonding, is used to fix chipped, cracked, broken, and misshapen teeth, among other flaws. Cosmetic bonding involves putting a dental resin on the affected tooth and molding it to the desired shape. It is then hardened with a special light and polished to a natural sheen.
Teeth Whitening
Come in for an in-office tooth whitening procedure to lighten your smile by many shades in just one visit! Tooth whitening is safe to be used with other procedures, such as porcelain veneers.
Porcelain Veneers
Veneers are very thin shells of porcelain that fit over teeth you would like to change. They conceal flaws in just two office visits and are especially popular with the Hollywood crowd for their efficiency and strength.
Smile Makeover
A smile makeover involves using a set of procedures to transform your smile. When coming in for a smile makeover, there are a few things you should discuss with Dr. Shoemaker:
What do you like or dislike about the color, size, shape, and spacing of your teeth?
Are you pleased with how much your teeth show when you smile and when your lips are relaxed?
Do you want teeth that are perfectly aligned and a bright shade of white, or would you prefer a more natural look with slight color, shape and shade variations?
Would you like more or less of your gums to show when you smile?
We will take all of your smile desires into consideration and craft a smile makeover plan unique to you.
https://imis.icoi.org/Members/Find_a_Member/Members/Directory.aspx?hkey=f2e6ccd9-9e01-4b4d-b9d1-1795153d22b3
Dr. John Shoemaker, DDS, DICOI, is a highly experienced and venerated dentist in the Sherman, TX area. He dedicates himself to continuing education courses to stay abreast of the very latest in the dental field. For dazzling cosmetic dentistry results, schedule a consultation with the best.
Personalized Dentistry To Suite Your Needs