Teeth Whitening Safety Depends on the Right Product Used in the Right way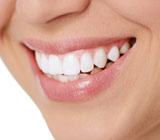 Tooth whitening procedures and products have become increasingly popular over the last two decades. There are two main sources of application: professional procedures performed in a dentist's office; and over-the-counter products for performing whitening applications at home. While there are pros and cons to both approaches, neither type poses a significant health risk — that is, if you match the correct product to the type of staining you have, and it's applied according to the manufacturer's instructions.
Although whitening treatments may differ in formula and strength, almost all use hydrogen peroxide as the bleaching agent, usually contained in carbamide peroxide which splits into hydrogen peroxide and urea upon activation. After many studies, there's a strong consensus that hydrogen peroxide used at the levels found in whitening products doesn't cause any harm to the body, including as a precursor to cancer.
But as the 16th Century Swiss physician Paracelsus once noted, "All substances are poisons… The right dose differentiates a poison from a remedy." This is true of the chemicals that make up whitening products — they're safe unless they're overused. Going beyond their directions for use could lead to tooth enamel damage.
Further caution is also in order for teenagers using whitening products. Although they may have their permanent teeth (although younger teens may still have some primary teeth), the enamel layer is still developing and can be more vulnerable to damage from whitening chemicals than for adults.
The best approach for both a professional or home whitening procedure is to first seek consultation from our office. If nothing else, you should at least undergo a dental examination to identify the true cause of your teeth's staining or discoloration. If the discoloration originates within the tooth, home applications and many professional treatments will not help if they bleach the outer surface only. We can also advise you on the proper application and dosage for a chosen product.
Using the right whitening product and in an appropriate manner will reduce the risk of injury to your teeth and overall health. And, the end result can be a brighter, more vibrant smile.
If you would like more information on tooth whitening, please contact us or schedule an appointment for a consultation. You can also learn more about this topic by reading the Dear Doctor magazine article "Tooth Whitening Safety Tips."