Understanding the Process of Dental Implants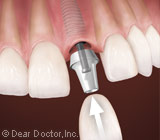 If you've been reviewing tooth replacement options, you probably already know the superior benefits of dental implants: their durability, functionality and life-like quality could provide you with years, even decades of satisfying service.
If you take this option, however, you should be prepared for a slightly longer process than a couple of office visits. From concept to permanent crown placement, it will require several months of preparation, expertise and teamwork. The more you know about this process, the better prepared you'll be to handle it.
After careful preparation, which may include extracting the tooth being replaced, the process begins in earnest with the surgical placement of the implant's titanium post into the jawbone. The surgeon uses a guide based on your bite and mouth structure to precisely implant the post in a pre-planned location: this ensures that the permanent crown will be affixed in the right location for best appearance and functionality.
While a temporary crown can sometimes be attached immediately after implantation, the permanent crown must wait until the bone grows and attaches around the titanium post (osseointegration). Once this has occurred, usually over several months, the implant can fully support the permanent crown and its function.
This last element, the permanent crown, is in many ways a work of art. Taking into consideration the patient's facial features and shape, the type of tooth replaced and the tooth coloring natural to the patient which is transmitted this information to the dental technician who will manufacture the crown. The goal is to produce a life-like replica that will look natural and perform well.
It may seem quite involved, but all these stages are necessary for a successful outcome. Although dental implants take careful attention and time, the outcome is worth it. In the end you'll not only recover lost function, you'll also have a new, transformed smile.
If you would like more information on the procedures for placing dental implants, please contact us or schedule an appointment for a consultation. You can also learn more about this topic by reading the Dear Doctor magazine article "Dental Implants: Evaluating Your Professional Options for Care."