Understanding the Signs and Symptoms of Tooth Decay and a Diseased Root Canal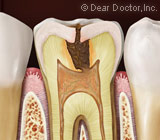 Tooth decay can be relentless: left untreated it can work its way into a tooth's inner core — the pulp chamber or better known as the root canal. Once this occurs, the best course of action to save the tooth may be a root canal treatment to clean out the diseased pulp (nerve) and seal the canal from further decay.
So, what signs and symptoms might you encounter if decay has invaded a tooth's root canal? When the pulp is first infected you may experience acute pain; over time, however, the pain may suddenly dissipate. This doesn't mean the tooth has healed itself — quite the contrary, it may mean the infected pulp tissue, including the nerves, has died. Once the nerves die, they no longer transmit pain signals to the brain.
While the pain may cease, the infection hasn't and will continue to travel from the end of the tooth root into the bone. At this point, you may encounter pain whenever you bite on the tooth. This time the pain is originating in nerves located in the periodontal ligament that surrounds the tooth root and joins the tooth with the jawbone. This can lead to an acute abscess (with accompanying pain) or a chronic abscess that may have no pain symptoms at all. As the decay progresses you may eventually suffer bone and tooth loss.
The important point here is that you may or may not notice all the signs and symptoms that indicate deep decay within a tooth. That's why it's important to undergo a thorough dental examination if you have any symptoms at all, especially acute pain that "mysteriously" disappears.
A root canal treatment and removal of the decayed tooth structure will stop the progress of tooth decay and preserve the tooth. The longer you delay, though, the greater the risk your tooth will eventually lose the battle with tooth decay and infection will continue to spread.
If you would like more information on root canal treatment, please contact us or schedule an appointment for a consultation. You can also learn more about this topic by reading the Dear Doctor magazine article "Signs and Symptoms of a Future Root Canal."