Are you suffering from ill-fitting dentures or missing teeth?
Join us at our special seminar to find out how you can get
a healthy, stable smile which can make you look up to 10 years younger!
Date: Tuesday October 8, 2019
Location:
1609 North Highway 75, Suite 300
Sherman, TX 75090
Time: 6 PM
Special: Free CT scan offered to attendees! ($250 value)
Space is limited to 20 people
Get Your Free Gift!
Sign up now and attend our dental implant seminar to receive your FREE CT-Scan from Dr. Shoemaker and start your journey towards a healthy, stable smile which can make you look up to 10 years younger!
RSVP to Shoemaker DDS Dentistry at (903) 893-7751
Want to Bring Back Your Natural Smile?
Everyone knows the appealing and alluring effect of a dazzling smile. Who doesn't want one? If you're unfortunate enough to have ill fitting dentures, crooked, missing or severely damaged teeth, then you might have considered getting dental implants to restore your natural smile and your self-confidence.
Over the last three decades, dental implants have revolutionized the field of implant dentistry. And the advancements in dental technology have resulted in dental implants that are almost indistinguishable from real teeth.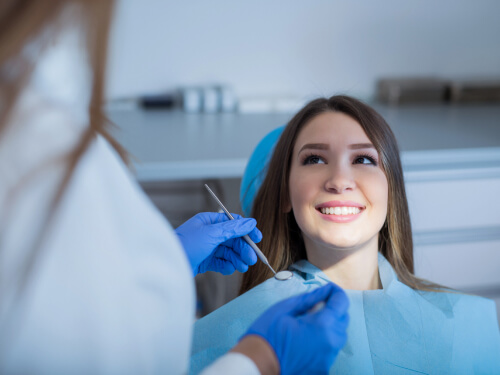 So Why Should You Consider Dental Implants Instead of Conventional Bridges and Dentures? There Are a Number of Reasons!
They're permanent and can last for decades without any issues!
No discomfort.
Dental implants fill unsightly gaps in a smile.
Dental implants deter the bone loss that will occur when a tooth is lost. The titanium post fuses with the bone, thus preventing it from dissolving.
When teeth are lost, the bone which held the roots of the teeth starts to dissolve, and so removable dentures may slip or cause sores on the gums.
When you lose teeth, you inevitably lose mass in your jaw. This affects the overall skeletal structure of your face, which not only changes your profile, but also may result in thin lips, drooping muscles, jowls or witch's chin.
Spreading bone loss in the jaw also affects the gums and ridges in your mouth, as well as the muscles and nerves in and around the mouth.
Unlike bridges, implants do not rely on the adjacent teeth for support and therefore allows the neighboring teeth to be left healthy and intact.
Chewing with bridges, partials, and dentures is not the same as natural teeth – dental implants allow you to eat nuts, fruits and vegetables again without the pain and irritation associated with other options.
If you're tired of hiding your smile and want to restore it to its natural beauty, join us at our seminar to find out how our dental implants can help. Space is limited, so don't hesitate – sign up today!